In May 2022 the Ministry of Education, Culture and Science awarded a gravitation grant to the IMAGINE! project.
The main applicant for the IMAGINE! project is Anna Akhmanova: "This grant means a lot to me as a cell biologist. It will literally take my research field to the next level: from studying cells in a Petri dish to studying cells in intact tissue. We know that cells behave differently in the body than they do in the lab, but it requires very advanced techniques to view and control them there. This project gives us the chance to develop and apply such techniques."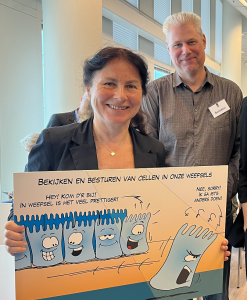 This new technology will make it possible to study how drugs work at the tissue level, Akhmanova explains. "We can already do that in a Petri dish, but to develop good drugs it is essential to see how they work in tissues in the body. In the case of cancer therapies, for example, we need to know how treatments affect the cells surrounding a tumour." The next step the researchers want to take is to manipulate specific cells within tissue in very controlled ways, for instance to influence tissue development.
Co-applicant Lukas Kapitein: "With this project, we will interweave strong research lines in physics, chemistry and biology into a powerful new line to investigate living systems in a unique way, from molecule to tissue." Akhmanova adds: "This project enables us to make profound connections between very strong research groups in areas in which we excel in the Netherlands: microscopy, organoids, cancer research and regenerative medicine. This project takes life sciences in the Netherlands a big step further, and it is fantastic to be able to play a role in that."
The project IMAGINE! Innovative Microscopy and Guidance of cells In their Native Environment receives 20.8 million euros. The main applicants are Anna Akhmanova (UU), Lukas Kapitein (UU), Peter Friedl (RadboudUMC), Jacco van Rheenen (NKI and Oncode Institute), Madelon Maurice (UMC Utrecht and Oncode Institute), and Geert Kops (Hubrecht Institute and Oncode Institute). Also involved are researchers from TU Delft, TU Eindhoven, Prinses Máxima Centrum and ErasmusMC, and various microscopy centres, including the UU's Biology Imaging Center.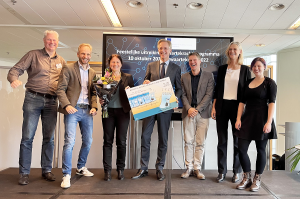 The programme launched October 2022.
Photo: "Feestelijke uitreiking Zwaartekracht-programma"
(Ceremony for obtaining the Gravitational Grant) with Minister Robbert Dijkgraaf.